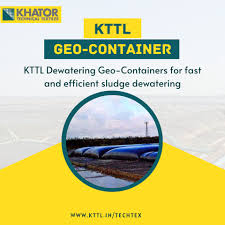 KTTL Mining application in geotextile industry :
Geotextiles are permeable fabrics that are used in construction, engineering, and environmental applications, which are simply made from PET or PP and are used to reinforce soil, filter liquids, in seperation ,protection against erosion & many more.
Similarly In the mining industry, geotextiles can be used in a variety of applications, including:
Slope Stabilization:
In mining operations, KTTL geotextiles can be used to reinforce soil on slopes and prevent erosion. It reduces the risk of landslides and protect against other forms of soil instability.
Tailings dam reinforcement:
KTTL Geotextiles can be used to reinforce tailings dams, which are used to store the waste materials produced during mining operations. This can help to improve the stability and durability of the dam, reducing the risk of failure.
Groundwater control:
KTTL Geotextiles can be used to filter liquids and prevent the movement of contaminants into groundwater. In mining operations, this can help to protect against water pollution and maintain the quality of nearby water sources.
Rehabilitation:
After mining operations have been completed, geotextiles can be used to help restore the area to its natural state. This can involve using geotextiles to stabilize soil, promote vegetation growth, and prevent erosion.
Overall, geotextiles play an important role in the mining industry, providing a range of benefits and helping to improve the environmental performance of mining operations. By using geotextiles, mining companies can reduce their environmental impact, improve safety, and enhance the sustainability of their operations.